Hi, all! It's Wednesday, here's
What I Ate
... Tuesday. :)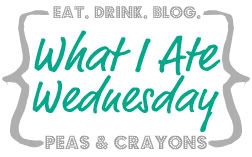 I decided yesterday that I would follow
Jay Robb's Fruit Flush plan
. The plan lasts three days, and the first is basically all protein shakes, all the time. I altered the plan a little, because I've tried drinking protein shakes made with just water, and I think they're disgusting. I made all of my shakes with Almond Breeze unsweetened Vanilla Almond Milk, and some with juice.
Breakfast: Creamsicle Shake
Tropical Dreamsicle Whey Protein Powder
12 oz. almond milk
1 c. ice
This shake was a lot less smooth than I'm used to, probably because I didn't add xanthan gum. I was trying to stay as close to the Fruit Flush plan as possible.
Lunch: Pina Colada Shake
Pina Colada Whey Protein
6 oz. almond milk
6 oz. pineapple juice
1/2 tsp. xanthan gum
Creamy and delicious - also, this was about twice the volume as my breakfast shake. Xanthan gum is definitely the way to go!
Snack: Creamsicle Shake
Tropical Dreamsicle Whey Protein Powder
6 oz. almond milk
6 oz. orange juice
1/2 tsp. xanthan gum
Dinner: Salad
lettuce
grape tomatoes
avocado
Morning Star Grillers Patties
I definitely altered the plan... a lot. But, I didn't feel starving or weird at all throughout the day which was great. Tomorrow is basically all fruit. I can't wait to see how that goes. :)
~ Susan