Hi, all! It's Wednesday, here's
What I Ate
... Tuesday. :)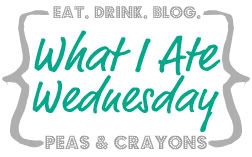 I ate Ravioli with Cherry Tomatoes for a very early lunch/very late breakfast.
I added a drizzle of olive oil and some salt and pepper. I usually like to add steamed spinach or other greens to up the volume, but I didn't have any around.
I was craving something sweet, so I followed it with a Skinny Cow Peanut Butter Candy Bar:
These things satisfy my sweet tooth. They're not that great, but if you just want something sweet that's low in calories, these do the trick.
I had some Coffee with Pumpkin Spice Creamer as a pick-me-up before work. (I work in the afternoon/evening).
I had some applesauce for work as a snack.
...times two. :)
Later I had a Peanut Butter Pretzel Cliff Mojo Bar.
(This is a picture of my current stash at work.)
... then, I was way too lazy to make anything for dinner, so I ate the rest of my ravioli from lunch. =D
Kinda all over the place, but I've had an all over the place kind of week. I'm still recovering from the holidays party I went to this weekend. I made healthy choices food-wise, but I stayed up a lot later than I do usually, and I think tomorrow I'll finally feel totally rested.
How about you? Have the holiday parties started yet?
~ Susan